Every parent wants the best for their child and so do we. Becoming part of the Web Tech Kids program in your local area is an investment with great returns. Our website curriculum offers everything to help your child enhance his or her skills in reading, writing, math, organization, technology, and more.

The Web Tech Kids program assures you that with support from the family, your child can make progress in their understanding of the web as well as other subjects. When you make the decision to choose an after school program in your neighborhood you get the value of online progress reports and ongoing feedback from the instructor.

Have questions?
Contact Us online or call us at
1-888-877-6481.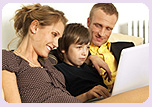 Parents

..........................
Reinforce Academics
New Skills
Improve Confidence
Enhance Knowledge
..........................